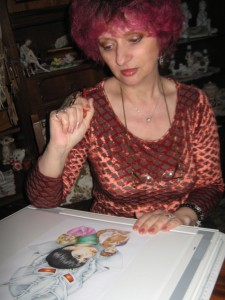 Violet Vandor was born in Deva, Romania. Her mother, Margaret, was born in Hungary, and her father Zoltan, in Romania.
Violet graduated from the High School in Deva. She studied mechanical drawing in the town of Cluj and web design at the Helvetian Multimedia Institute from Deva. Violet and her husband Silviu Vandor have a 19 year old daughter, Alexandra.
From 1978 until 1991- Violet was designer at the "Mining Design Institute" of Deva.
In 1990 she became an author and illustrator at the "Corvin Publishing House-Deva," and since that time they have published many of her fairy tales, children's poetry, illustrations and caricatures. These books are published in Hungarian.
In the summer of 2004, Violet had an exhibition of her fairy tale illustrations in Deva. She is a member of the "League of Hungarian writers from Transylvania"
Violet has had more than 40 published books in Romania, Hungary, and the USA. In 1991 the "Poverello" publishing house from Miskolc, Hungary published her first coloring book: Christmas Coloring Book. In 1998 Agape Publishing from Szeged, Hungary, published her Biblical Coloring Book. These books were published only in Hungarian and many are now out of print.
Violet's coloring book Waiting for Santa published by "Wandering Sage Publications" can be ordered on Amazon.com.
Violet's website is: http://fairytales.5mp.eu
Violet's illustrations on BibleQuilts.com
Violet's First Christmas Bible Quilt Coloring Pages are available here.
The First Christmas pictures are also available in color on fabric here.
These links are to her free coloring pages:
Jesus Entering Jerusalem copyright 2012 by Violet Vandor
Jesus Carrying His Cross copyright 2012 by Violet Vandor
Noah's Ark copyright 2012 by Violet Vandor
Moses and the burning bush copyright 2012 by Violet Vandor