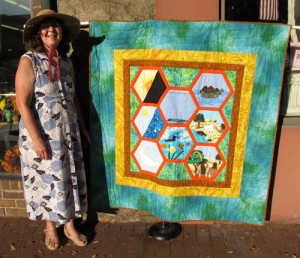 My Creation quilt is so nearly finished that I'm already showing it off as I do my book signings for my Bible storybook, The Creation. This picture was taken in Georgetown SC on Saturday, October 15, 2011.
See more about my Bible storybook The Creation at http://honeycombadventures.com/books/.
See also, the coloring pages for The Creation.
Next I plan to quilt the Christmas story both in applique and as a Christmas tree skirt with crayon-colored quilt blocks applied to the outer edge. I hope to have the coloring pages up for download before November 15, 2011.