I recently discovered Cheryl Almgren Taylor's book while exploring Pinterest. She has designed and created some beautiful Bible themed quilts that I know my readers would enjoy. Cheryl graciously agreed to write a guest post about her book…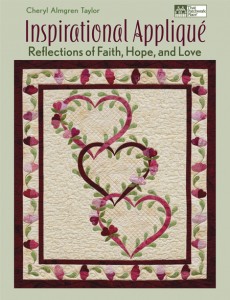 I want to thank Janice for inviting me to her blog. For those of you who don't know me, I'm Cheryl Almgren Taylor, a quilter and designer who specializes in fusible-web appliqué. My latest book, Inspirational Appliqué, published by Martingale (That Patchwork Place), is a collection of scripture-inspired quilts, wall hangings, and small projects. As I worked on the book, I felt a connection to the quilters of past generations who also used their quilting skills to express their deeply held religious beliefs. We are told that a common practice in historic quilts was to include a deliberate mistake to express the maker's religious faith, the belief that nothing is perfect except God. I've never had to create a deliberate mistake in a quilt—I'm quite proficient at providing numerous mistakes without any extra effort, but I admire this tradition and its place in our heritage.
In Inspirational Appliqué I designed special quilts based on passages of scripture that were significant in my life. One of my quilts was inspired by Matt. 6:26, a scripture that my father kept posted in his work area, which says, "Consider the birds of the air; they do not sow or reap or store away in barns, and yet your heavenly Father feeds them. Are you not much more valuable than they?" The quilt features four window panes, each with a vignette of birds. It is a reminder that we spend too much time worrying about things God has under control.
One of my favorite quilts, which was quite challenging to design, is based on Gal 5: 22-23 and is my "Fruit of the Spirit" Wall Hanging. I deliberately chose red as a key design element because it historically has been used to represent the Holy Spirit, and the fruit included apples, pomegranates, and grapes, which all have spiritual significance. They are arranged in a heart shape to represent God's love.
My "Daily Bread" Wall Hanging was done in a color palette of creams, gold tones, and blues and reminds me of my Swedish grandmother and her strong faith. If that doesn't make sense to you, you need to understand that the national colors of Sweden are blue and yellow, and Grandma was very proud of her heritage.
Finally, my "Faith, Hope, and Love" Wall Hanging, inspired by 1 Cor. 13:13, features three intertwining hearts with the words "faith", "hope", and "love" quilted into their centers. This passage of scripture was read at my wedding and is always a source of comfort and inspiration.
Quilting is a source of great joy in my life and it has been a blessing to be able to express my faith through fabric, thread, and color. I wish you well on your quilting journey and feel free to drop by my website www.atimetosewquilts.com or email me at Cheryl@atimetosewquilts. Blessings to you all.~Cheryl
Thank you, Cheryl for sharing your beautiful quilts with us. Cheryl's books and quilt kits can be purchased on her web page, A Time to Sew Quilts, or on Amazon.com.