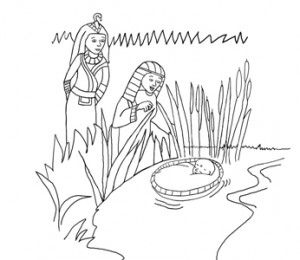 My heart's desire is to offer free on this blog many Bible story pictures suitable for using to create Bible quilts.
The coloring page for baby Moses is up and ready for download. Moses copyright 2012 by Rosemarie Gillen
All coloring page downloads on BibleQuilts.com are uniform in size to make it easy to pick and choose the ones for your child's Bible quilt. More pictures to come as funds come in…
+ + + + + + + + + + + + + + + + + + + + + + + + + + + + + + + + + +
Until now I have only been able to offer sets of coloring pages to help people get started making their own Bible quilts. Since I do not have sufficient talent to make the coloring pages myself, I must charge for the coloring page sets so I can pay my illustrators. My pockets are too shallow to pay illustrators up front. For this reason I am adding a PayPal button hoping a few individuals might donate funds to pay for coloring pages that can be posted directly to the website for free downloading. I have begun paying my illustrators $30.00 per coloring pages ready for free downloading from BibleQuilts.com.